THE MODERN DAM PLATFORM HAS ARRIVED:
Reclaim control of your content, your brand, and
your time.
Learn More
We've landed on our first Forrester Wave™ for Digital Asset Management in Customer Experience (Q1 2022). Grab your complimentary copy and discover why we're evaluated as a "Strong Performer."
Experience a new way
to manage your digital assets
Eliminate complexity so your storytellers can focus on what they do best: 
reaching your customers and growing your brand.
Publish & Track Your Content Across Channels
Brands spend too much time and money creating content that never leaves their traditional DAMs. Rather than archiving assets, your DAM should be a hub where content flows directly from your creative team to the channels its designed for, and give you the ability track where that content goes, all from within the platform.
Tenovos gives you the power to publish assets to your audience-facing digital channels – like YouTube or your eCommerce site – and track it so you always know what's being used, where, and the impact it's having on your audience.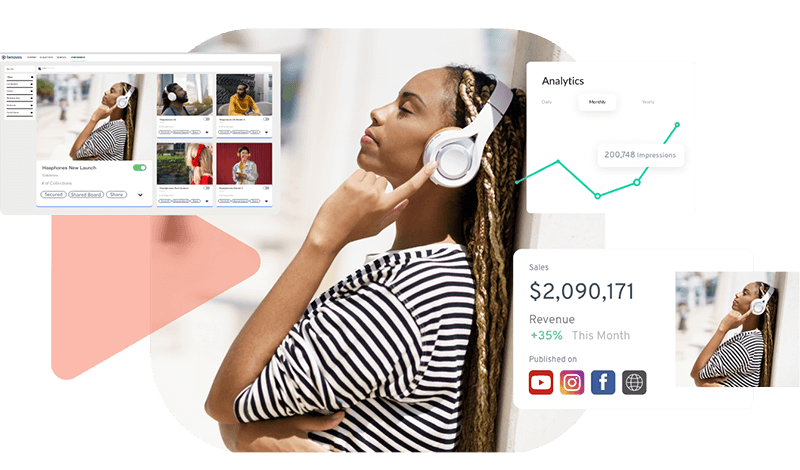 Streamline Creative Worfklows
Today's brands are using more content than ever before, and getting those assets into market with speed is often the key to a successful campaign. A modern DAM platform should increase creative team productivity by providing quick access to approved brand assets, automating review processes, and integrating with key systems to enable end-to-end creative workflow automation.
Through cloud-native technology and API integrations, Tenovos lets Creatives easily connect their tools to the DAM so they can seamlessly work on assets and trigger review worklows, all without leaving the system.
Govern Your Brand
with Confidence
Whether your company is just getting its start or is already a global powerhouse, the ability to reliably govern your brand identity at scale is a non-negotiable. Nothing undermines your audience perception like finding outdated materials that clearly escaped that last rebrand. With role-based experiences, brand collections, curated portals, dynamic pre-designed brand templates, and metadata that goes everywhere your assets go, we build in governance from the start.
And because you know creators take IP and governance just as seriously as you do, you'll appreciate Tenovos' easy-to-use rights management tools that keep every asset in compliance.
Find Assets With Speed
& Accuracy
One of the biggest time sinks for any creative team can be finding the assets they need – and feeling sure that what they found is up to date. With a modern, intuitive interface and intelligent search aided by AI and machine learning, Tenovos eliminates hours spent searching so teams can shorten the time to market of new campaigns.
And those SEO and ALT tags that made those items easy to find? Our integrations and virtually limitless storage ensure they follow the asset wherever it goes – from storage through publishing to the archives.
Join some of the world's leading brands that trust their assets to Tenovos

Learn More About Our Customers